Real time financial data on the go
Online accounting software that meets statutory requirements and uses internet with a secure login to manage your business accounts, payroll and other financial records anytime, anywhere with any device.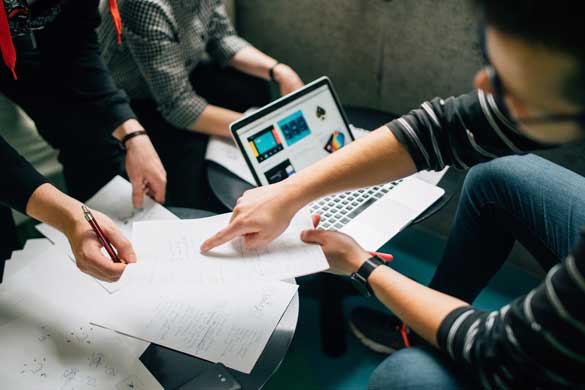 Our Services
Pure convenience and efficiency for business owners.
Fast, simple and automated
Gives you real time access to your financial position
Our staff will provide support, training and assistance with set-ups of MYOB, XERO and INTUIT QuickBooks solutions.

Gibbs Hurley have been an essential and positive partnership to assist us in growing our business. They have outstanding expertise with regards to business and tax strategies, and overall accounting and business development. Gibbs Hurley are proficient with Xero and we are confident with their advice and undertaking of Xero subscriptions or matters.
Meegan Wiseman
Operations Manager KPL Filtration Pty. Ltd.
Our Process
Complementary first consultation where we can discuss your needs and you can see if we are a good match for you.
Step 1
Complete the "Get in touch" form below or give us a call.
Step 2
One of our friendly staff will contact you to arrange a free consultation.
Step 3
Meet with one of our partners to discuss your needs, pricing and steps to go forward.
Frequently Asked Questions
Which are the cloud accounting software?
The main providers in Australia are MYOB, XERO and INTUIT QuickBooks.
How secure is my data?
Security is upheld by the software provider and it has the highest possible level of security. Each provider has several layers of redundancy in their systems to ensure not loss of data when systems are under maintenance, computer crashes, gets lost, stolen or damaged. Most systems logins now require 2 step authentication (2FA), which provides greater security.
How do I choose the right software for our business?
The most suitable software will depend on your business size, needs and budget.
What are the benefits of cloud accounting?
You can access your data anytime, anywhere on any device with internet access, allowing you to invoice clients on site and process payments immediately, saving you time and effort. Your accountant can self-serve to reports, file and information needed to provide you with better and more relevant advice.
Is it easy to switch to cloud accounting?
You have 2 alternatives; start afresh adding comparatives to show the balances of your old accounting system, or migrate your financial data online which the main providers offer as free service. Migrating your data may take several business days depending on the size of your data.
Who can access my data?
Only people that you give access to, via "user invite".
Case Study
Leverage agile frameworks to provide a robust sypnosis for high level overviews. Iterative approaches to corporate strategy foster collaborative thinking to further the overall value proposition. Organically grow the holistic world view of disruptive innovation via workplace diversity and empowerment

Get in Touch
Book an appointment, 1st one free.